Solar Powered Street Lights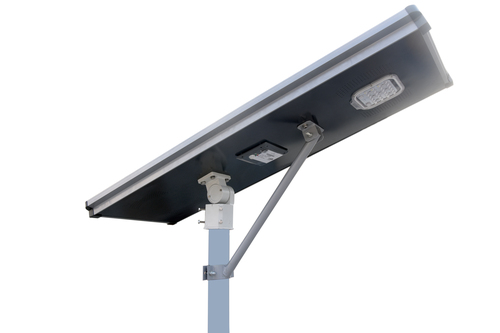 Solar Powered Street Lights
Price And Quantity
Product Specifications
Aluminum Alloy

Aluminum dia cast
Product Description
Features

All in One Solar Street light with provision of AC Mains 230V.
Smart light having features of Solar and AC street light.
Reduced backup problem.
Complete integrated light.
This smart light comes with all the features of Solar street light & AC street light. It is feeded by SPV & AC mains (230 V). It takes the solar power at priority and charges the battery. In case the battery is in low a condition, then the light is automatically switched to AC mains (230 V). It helps to glow the light during rainy / winter season.
Highlights
Compact Design: Integrated Solar Panel, LED light, Motion sensor, Li-ion/LiFePo4 battery and solar charger controller.
Easy installation: Just unbox the light and tight with the pole with 4nut-bolts and no cable connection.
PIR motion sensor (12M Range): PIR Motion sensor adjusts the brightness of light to extend the backup time.
Li-ion/LiFeP04 battery: Li-ion or LiFeP04 battery provides long life and maintenance free product.
Automatic Dusk to Dawn: Light goes auto off in day time and auto on in night, with activation of motion sensor.
Micro-controller based design: Micro-controller based design provides more efficiency, smartness and more reliability.
Anti-theft: 4M to 5M height provides more protection against theft.
Technical Specifications

Description

9W LED

12W LED

15W LED

18W LED

Solar Panel

40 Wp Solar Panel - Poly Crystalline


50 Wp Solar Panel Poly Crystalline

Battery Capacity

11.1V, 11Ah Li-ion

12.8V, 9Ah LiFePo4

11.1V, 13Ah Li-ion
12.8V, 12Ah LiFePo4

11.1V, 15Ah Li-ion
12.8V, 13.5Ah LiFePo4

11.1V, 19.8Ah Li-ion 12.8V, 18Ah LiFePo4

Lumen Output / Watt

120 Lumen / Wp

Operation

Light will glow in full bright mode for first 4Hrs., After 4Hrs. Light will dim to 33% power and motion sensor
will activate for detection of motion. If any motion is detected in 12M area around the light, it will glow in
full bright mode for 2 min, after that it will come to 33% power

Efficiency

>90%

light operating voltage

9.6V - 12.6V

Battery deep discharge protection Voltage

9.6V

Space between light poles

10M - 15M

15M - 20M

Light Backup Time

2 Days

Net Weight

9Kg

10Kg

12Kg

13.5Kg

Product Dimension

72cm x 46cm x 7cm

66cm x 55.5cm x 7cm

Protection Provided

Battery deep discharge protection, Over charge Protection, Load Open Protection, Charging and battery
indication, Reverse current flow Protection, Temperature Compensation

Packaging contains

Integrated light with SPV, Mounting Bracket, U-clamp, Nut-Bolts.
Description

20W LED

25W LED

30W LED

Solar Panel

60 Wp Solar Panel
Poly Crystalline

75 Wp Solar Panel Poly Crystalline

75 Wp Solar Panel Poly Crystalline

Battery Capacity

11.1V, 23.4Ah Li-ion 12.8V, 21Ah LiFePo4

11.1V, 26Ah Li-ion
12.8V, 24Ah LiFePo4

11.1V, 32Ah Li-ion
12.8V, 28.5Ah LiFePo4

Lumen Output / Watt

120 Lumen / Wp

Operation

Light will glow in full bright mode for first 4Hrs., After 4Hrs. Light will dim to 33% power and motion sensor will activate for
detection of motion. If any motion is detected in 12M area around the light, it will glow in full bright mode for 2 min, after
that it will come to 33% power

Efficiency

>90%

Light operating voltage

9.6V - 12.6V

Battery deep discharge protection Voltage

9.6V

Space between light poles

15M - 20M

20M - 30M

Light Backup Time

2 Days

1.5 Day

Net Weight

15Kg

19Kg

22Kg

Product Dimension

89cm x 50.5cm x 7cm

101cm x 50 5cm x 7cm

Protection Provided

Battery deep discharge protection, Over charge Protection, Load Open Protection, Charging and battery indication,
Reverse current flow Protection, Temperature Compensation

Packaging contains

Integrated light with SPV, Mounting Bracket, U-clamp, Nut-Bolts, Bending Pipe
Trade Information
Yes

Within a certain price range free samples are available
Contact Us
4/16, Site 4, Adarsh Industrial Area, Sahibabad Industrial Area Ghaziabad Uttar Pradesh India +918035948035
Phone :+918035948035